Our journey started by leaving our home city (Edmonton) on June 18th, this saw us stop overnight in Jasper National Park before heading on to Kamloops. After a brief stay, we booked it to Delta and hopped the ferry to Nanaimo. We drove through to Little Qualicum Falls Provincial Park and set up camp for the next few days and commenced our two week stay on the Island.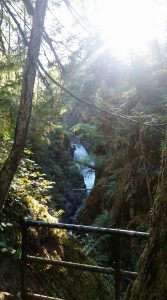 Like most of the provincial parks we've stayed in in British Columbia, Little Qualicum Falls was immaculately kept and seemed to attract a great selection of campers, all of whom seemed to be there to enjoy nature – not their generators or their radios. The park is patrolled frequently and it is always full. Reservations are must – we actually saw a family packing up as they'd pulled into what they thought was a vacant site, only to find out it was booked (you can book many BC campsites here). Within the campground itself, there are many hiking trails and sites to see. The falls themselves (upper and lower) are a short walk from the campground (in the day use area) and are quite beautiful and not as busy as some of the other tourist sites we've visited. The campground is in the middle of a beautiful forest that's filled with lush ferns, Douglas fir and it felt like we'd stepped back several million years in time! At any moment, we expected to see the ghost of a massive Apatosaurus munching away on the gigantic, lush vegetation!
It is a stone's throw from MacMillan Provincial Park – which is home to Cathedral Grove – Vancouver Island's largest old growth, coastal forests. If you're in the area, Cathedral Grove is a 'must stop' location – and oh, so many people do!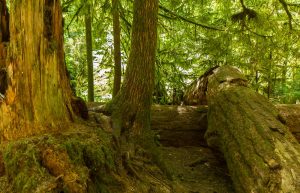 There are two coastal forests to walk through in Cathedral Grove. One is a large old growth Douglas fir forest. The trees are massive, imposing and spiritual in nature. The largest of which is an imposing 9m in circumference, nearly 76 metres tall and is almost 900 years old!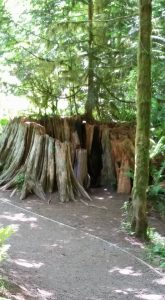 On the other side of the highway, is another massive forest filled with ancient Western Red Cedars. Although not quite as large as their neighbours, it is home to the remnants of the western giants. The oldest and largest of which, was set aflame by vandals in 1972. This beauty, nicknamed the "Giant's Grave" once stood 71 metres tall and 4.5 metres in diameter!
Although there are many (many) visitors there are any given time, for the most part, it doesn't feel crowded (the parking lot, however, is). Be very aware of the traffic and respect the speed limits and watch for pedestrians! It is worth the moment to stop. Be sure to enjoy the surroundings and the silence and take the time to exist in a very special, spiritual space.
Read the introduction to our summer vacation here!
Originally published August 2017