After leaving the coast, we headed inland and started making our way back home via Clearwater. There were many (many) forest fires burning across British Columbia. Evacuations, highway closures and new fires were breaking out each day. The highway we needed was one of the only major routes still open, in other words, we could still get out.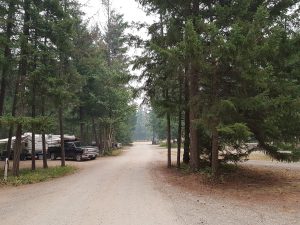 We pulled into the Clearwater KOA, a beautiful campground with all the services and amenities one would want but nestled in pine forests against the beautiful rocky mountains. Having stayed in the campground before, we were looking forward to exploring the nearby provincial park. Wells Gray. As the risk of fire was extreme, all parks with a single road in and out had been closed so there would be no touring the park this trip. Not to be deterred, the campground had many other things to keep us busy. A lovely swimming pool, mini golf course and nice grounds to walk around.
We spent our week enjoying ice cream, swimming and playing mini-golf. It was a beautiful way to wrap up our month away. We enjoyed our site, the people we met and celebrating my birthday with a delicious dinner in the onsite restaurant. The fires burning around us were evident. The smoke filled the campground and ash fell from the sky like rain most afternoons.
Then we heard the news. The south-side of town was evacuated. The fires were closing in. As a result, north Clearwater was now on an evacuation alert. To put it another way, we now faced immediate evacuation.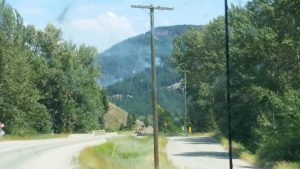 Saaayyy what?!?!
First questions? How much gas did we have? When did we last fill up? Should we leave early? To put it another way, could we get far enough away to be safe? Thankfully, we had our app to tell us. We learned in a panic situation, neither of us could remember when we last filled up (it was about 200km before) and because we'd tracked meticulously, we also knew we could make it about another 400km until we needed to fill up. That meant, we could get to safety without issue. Unless of course, the fires overtook the valley.
We went to bed knowing we'd be leaving in the morning, thankful we knew we could make it safely away and hopeful for all the people all ready evacuated and all the wildfire crews battling the blazes across the province.
Thank you for sharing in our 2017 Vacation series. We look forward to sharing more with you soon!