If there was a place a vacationer could stay forever, it would be the west coast of Vancouver Island. We easily (and quickly) fell head over heels in love with Ucluelet (and area). See our Vacation Series here!
We stayed at "Surf Junction Campground" – a cute little spot, eight kilometers north of Ucluelet and less than one from the Highway 4 junction. The staff were helpful, kind and very friendly. It was clear they had passion for their job and their community. We had a reservation (which was a good thing) although they did have RV sites available, their tent sites were full.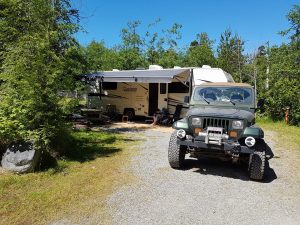 With full hookups, well treed and private, our site was a little oddly laid out but with a little jockeying, we had no issue getting set up. An even better bonus – the site was level! Always a bonus when parking an RV! There was lots of room for our chairs and RV mat and we were able to enjoy being outside – not always something one expects when staying in commercial campgrounds! The picnic table in our site was a little – unstable – but it held up our barbecue well. We didn't utilize their onsite shower or washroom facilities, but if they were kept nearly half as well as the (camp) sites and office were, I'm sure they would be great.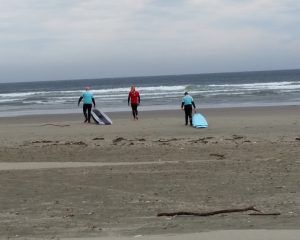 The boys booked surf lessons – the lessons included a snack, boards and (wet) suit rentals as well as a ride to (and from) the beach. Although it was not hot and sunny the day the boys went, the ocean was cooperative and the boys had a great lesson with Michael. He was fantastic with our son and both my boys got to ride some great waves and it spurred a love of the ocean (and surfing) in them both. We'd certainly stay at Surf Junction when we go to the island next. I went along for the ride and spent most of their lesson walking in the ocean (it's cold) and taking pictures of them.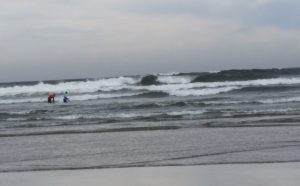 Ucluelet itself is quite a delightful little town. With a year round population of about 1800 people, the town is small enough to not feel crowded but still large enough to support a hospital, shops, an aquarium, schools and several great restaurants.
We visited two of the many beaches in town – Big Beach and Little Beach. The beaches are a lovely place to spend a few hours (longer if you pack a picnic) and they give you a lovely sense of the ocean and it's power. Big Beach introduced us to the ocean (as the day we arrived, we went into town and found the ocean so we could see the ocean for the first time). Rocky, sandy and with lots of driftwood, it really is an unbelievable place and so easy to lose track of time just watching the ocean crash onto the rocks.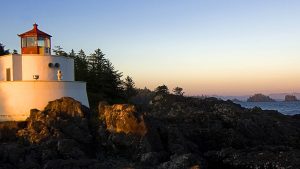 Although we didn't see it, we were able to hear the continual sound of the lighthouse sending it's warning out to sea. The Amphitrite Point Lighthouse began operation in 1906 (after a tragic crash in 1905) but the original lighthouse was destroyed in 1914. The current structure commenced service on March 23, 1915.
Also on high on our list of things to see and do in Ucluelet, we were able to spend the afternoon at the Ucluelet Aquarium. It truly brought the necessity for conservation and preservation into sharp focus. All the interpreters are passionate, engaging and very informative. They have many 'touch' pools so one can experience the ocean and their state of the art water system pumps fresh sea water into their pools and all the critters are returned to the ocean at the end of the season.
One key takeaway for our son was the amount of garbage that is collected from our oceans. In both the Aquarium and the Kwisitis Visitor Centre (on Wickinninish Beach in Pacific Rim National Park Reserve), they have various art installations made from the garbage collected on the beaches in the area. It truly is overwhelming just how much trash ends up in our oceans.
We experienced so many wonderful things while in the Ucluelet area, we could have stayed forever! The next leg of our adventure was Pacific Rim National Park Reserve, a truly unique and distinct area and we can't wait to share it with you!
Article originally published September 18, 2017