What do Beacon Hill Park and Emily Carr have in common? They are probably the two most famous things about the city of Victoria! Emily Carr is from Victoria and one of our favourite Canadian painters. Of course we had to tour her family home!
Located in the gorgeous downtown section of Victoria, Emily Carr House is both a National and Provincial Historic Site. The home is part art gallery, part interpretive centre. With it's sprawling period gardens, it is a wonderful way to spend an afternoon. Parking can be a bit tricky (as there is street parking but it can be difficult to find). The neighbourhood is old with many towering trees and older historic homes so having to walk a few blocks is part of the experience.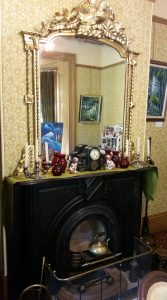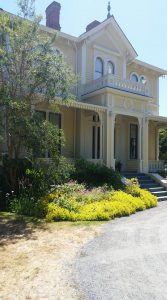 Admission is reasonable ($6.75 an adult) and it is still partly supported by government. The live-in caretakers have been in residence for 20 years and raised their own family there. Often, the people working in the gift shop are the caretakers, who live onsite (an area closed to public).
Each main floor room is an accurate representation of what the home looked like when the Carr family lived there. The various rooms are done to recreate the home as it would have been when Emily was young. Throughout the space are photos of the family, articles and pictures of Emily at work throughout BC. Also, there are recreations of Emily's work, painted by several local artists available for sale. As an aesthete, spending time here made me feel so connected to her work!
A feeling that continued as we toured the Art Gallery of Greater Victoria, which was showcasing her work as well. Although our trip to the art gallery wasn't on our original itinerary but they are the experts of all things Emily Carr (as this city was her home) and happened to holding an exhibit (named "Picturing the Giants – The Changing Landscapes of Emily Carr"). How perfect!
The art gallery itself is a rather unassuming building – until you see the Victorian mansion attached to it! It is a peculiar building nestled in (mostly) residential neighbourhood. With ample parking and great grounds for a picnic – including the only authentic Shinto shrine in North America, give yourself several hours to get through all the exhibits and gardens.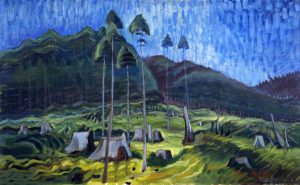 "Picturing Giants" is an examination of her works through her eye as her interest increased in the environmental issues coming to front of the forests she painted. This is juxtaposed with the current environmental crisis that the old growth forests face in present day. Known for painting some of the barren landscapes of over harvest, Carr often immersed herself in Indigenous culture and seemingly understood the concerns present today in her quest to preserve the old growth forests on Vancouver Island.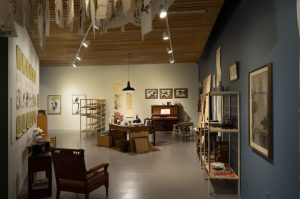 Tied into "Giants" was an exhibit of Chinese artist, Lee Nam. "With wings like clouds hung from the sky" is a unique art installation within the AGGV. Nam, an artist known solely through Emily Carr's writings of him, their friendship and an exchange of ideas and art. Montreal artist & curator of this exhibit, Karen Tam, imagines what Nam's studio (known to be on Cormorant Street) may have looked like and how both artists influenced one another. The recreated studio took you inside the artistic process of the artist and gave you look inside a working studio. It also included an area to create your own art – allowing visitors to try their hand at Chinese brush painting and display their work from the ceiling of the space.
Art and Vancouver Island go hand in hand. We had the opportunity to view the works of one of Canada's most famous and renowned painters in her own place of life and inspiration. It was a beautiful culmination of our time spent on this glorious island.
Additional information gleaned from the following sources:
Canadian Art
Art Gallery of Greater Victoria
Like this? Take the whole tour of our time on the Island! Whether it's Cathedral Grove, Ucluelet, Pacific Rim National Park Reserve or the other places we visited in Victoria, we wrote about it all!