Victoria – the capital city of British Columbia, population of 389,000, set along the craggy southern tip of Vancouver Island. It's a sprawling city with many smaller cities and communities abutting up to it. Jokingly referred to as the land of the newlywed and nearly dead, it is a city for all ages and walks of life.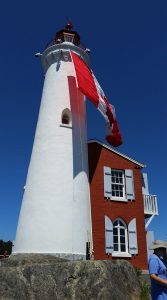 Fisgard Lighthouse National Historic site was how we kicked off our stay in Victoria and our Canada 150 celebrations! Built in 1860, it was the first lighthouse on Canada's west coast (in fact, Canada was still a colony of the British Isles) and seven years later, when Canada became a country, British Columbia (mainland and the island) did not join the country until 1871. However, it still served as the westernmost outpost for the British Royal Navy's Pacific squadron (and later, the Royal Canadian Navy).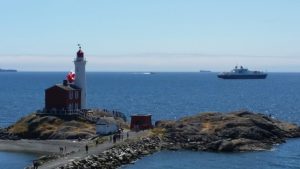 Large cargo ships, navy vessels (both Canadian and foreign), sail boats can all be seen while visiting the site (when visiting the lighthouse, we did see all of the fore mentioned ships!). It is home to several sea creatures as well – river otters, harbour seals and seal lions, as well as the Columbian black tailed deer, racoons, mink and a wide variety of bird also can be seen while visiting.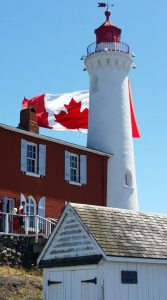 The lighthouse and the attached lighthouse keeper's quarters have been preserved. The lighthouse is still actively used – although there has been no keeper since the lighthouse was automated in 1929. The keeper's quarters are open to the public and the rooms are set up in the same fashion that they would have been when the last keeper was onsite. It also has displays dedicated to the perils of the sea; shipwrecks, storms and the lives of the keepers who lived (and died) while protecting and guiding ships into the Esquimalt and Victoria Harbours from the Juan De Fuca Straight. It's a fascinating trip into the past and it provides an excellent sense of the importance of the work of a lighthouse!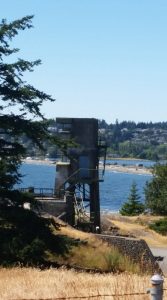 Adjacent to the lighthouse is Fort Rodd Hill National Historic Site. A coastal artillery fort, built in the 1890's to defend (Fort) Victoria and the Esquimalt Naval Base, it was in active use until it was retired in 1956! Even if you're not a history buff, it is a fascinating place to tour. Under ground magazines (bunkers), three gun batteries, search light emplacements as well as many original buildings, it makes for a fun afternoon. There is lots of signage, audio and visual stations to explain the workings of this once busy base!
Both sites are steeped with rich Canadian history and are definitely worth taking in while on the island. Treasured bits of Canadiana can be gleamed through interpretive programs, onsite signs and displays. The photographic opportunities are endless – ocean, mountains, historic buildings. All amazing and incredibly beautiful.
After spending our morning at historic sites, the afternoon had us venturing to downtown Victoria to take in Canada 150 Celebrations at the BC Legislature grounds! Within view of Victoria's Inner Harbour, the neo-Baroque BC Legislature building was completed in 1897. Designed by architect Francis Rattenbury, the building facade is constructed of andesite with domes of marble and sprawls along the site with beautiful lush grass, old trees and multiple statues and monuments.
The festivities included live bands, food trucks culminating with fireworks! We arrived early – after using their 'park & ride' transit service! The place was hopping – lots of people taking in the beautiful afternoon of free music, tasty foods and staking out the best spots on the legislature grounds.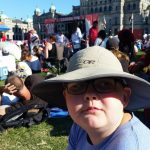 The Spirit Victoria Main (music) stage had some unbelievably awesome bands playing! Highlights for us included the French Canadian act, De Temps Antan – a foot stomping romp of Acadian music. In between, we sampled some very Canadian poutine and then En Karma took the stage…

I love of Bangra music anyway but these guys take to the next level! They had nearly the entire audience up learning to dance (my husband wasn't one of them). You can't help but move to the music and they broke the dance down to simple steps. Young, old, able bodied and non – everyone, was up dancing.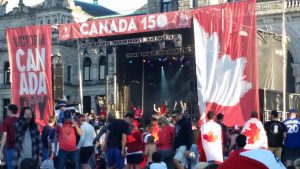 Fifty thousand people of all walks of life, up dancing to Bangra Fusion on the lawn of the BC legislature was an experience I will never forget. It was the single most inclusive event I've ever attended. We were all one – one people, one community, one race – celebrating together. That's my Canada. Although we got too chilly to stay on much longer (prairie dwellers aren't acclimatized to cool evenings by the ocean – especially without coats), catching a double decker bus home was also a unique and fun experience!
Thanks, Victoria, for the amazing and welcoming first day!
References:
Fort Rodd Hill National Historic Site Brochure
Parks Canada Fort Rodd Hill & Fisgard Lighthouse
Fort Rodd Hill website
Fisgard Lighthouse website
Victoria 150
Victoria Tourism
Like this? Read more of our travels to the Vancouver Island! Ucluelet, Pacific Rim National Park Reserve & Cathedral Grove!