Wildlife! A trip to Vancouver Island would not be complete without a whale or wildlife watching tour. There are many companies in both Ucluelet and Tofino that offer tours (Victoria has them too). Our tour was with Subtidal Adventures, with Captain Brian, an informative, fun-loving, dedicated wildlife conservationist and former Pacific Rim National Park park warden. Their whale watching tours are typically done in a zodiac (their company was the first to offer zodiac tours in the area) and are not recommended for anyone with back problems. This is something to keep in mind if you've got any issues with back pain or have had back or neck surgeries.
Welcome to Part Three of our excursion to Pacific Rim National Park Reserve! Please check out Part One and Part Two!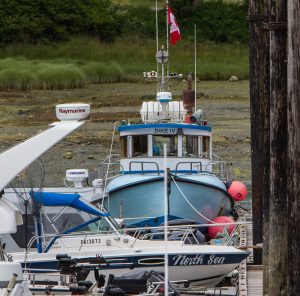 A wildlife watching tour is usually done in a larger, less bouncy boat and gives a wonderful opportunity to tour the waters on the coast. Although many tours take different routes, our tour took us out of the Ucluelet Harbour and down through the Broken Group Islands. We experienced the open ocean (it's frightening and breathtaking) and saw a host of different marine animals! Harbour seals, Stellar Sea Lions and sea otters were the big three. Each animal with it's own unique look, habitat and activity levels made every moment of our boat tour exciting!
At one point in our tour, we went to 'open' side of the ocean – meaning the next stop would have been open ocean all the way to Japan! We were admiring the lovely sea lions sunning themselves – between swells on the ocean! It was an incredibly overwhelming experience – we'd see the ocean and then nothing but sky! Be sure to check out this link – it's a minute long video I took while we were on the ocean. It doesn't in any way capture the volatile and powerful nature of our ocean, however, it gives you an understanding of how amazing the water is! So blue, so beautiful!
On our final night in the area, we decided to try a local seafood restaurant. Full disclosure – one of the three of us dislikes all seafood. So imagine our surprise when he suggested a restaurant called "Off Shore Seafood". It's a quaint little place just as you get into town. With a nautical theme and lots of free parking, it makes it a sweet little place to have dinner. The wait staff is informative, knowledgeable and welcoming. The restaurant had a different kid friendly menu available for our son but being the culinary adventurous kid he is, he went straight for the seafood (and still talks about the dungeoness crab dip we shared)!
Our son (not the one who dislikes seafood) convinced us to let him try oysters. I wish I had gotten a picture when he ate the first one – it was priceless. A mix of horror and repulsion. Totally hilarious, unexpected and what adventures are supposed to be about!
The dinners were amazing. Our non-seafood eater really enjoyed his fish. When you grow up in a landlocked province (such as Alberta), seafood is never really "fresh caught" but Offshore Seafood gave us the opportunity to eat truly fresh caught fish! It did not disappoint! But even more delicious? DESSERT!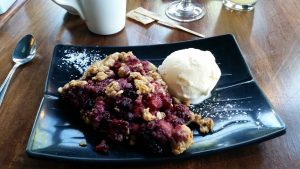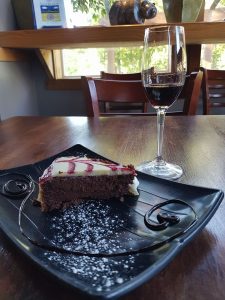 The west coast of Vancouver Island is (by far) the most scenic, beautiful, peaceful and uplifting places I've ever travelled. Best of all, the people were overwhelmingly friendly, kind and are happy to share their passion for the place. Over the past few years, Tofino (which gets considerably more attention) and Ucluelet have had a swell of population growth. Although the area is 'remote' by urban standards, it certainly has all the amenities one would require and with Port Alberni an hour and a half away (along a bit of a harrowing road in a large RV), it makes an excellent place to visit (and an even better one to call home).
We will be back, no doubt. Thank you for having us, West Coast! Our next stop, Victoria.
Unfortunately, shortly after visiting this lovely restaurant, Offshore Seafood closed it's doors. The owner posted on Facebook that due to her continuing health challenges, the operation of the restaurant had become too difficult to continue. We wish her every success and good health and will always drool over the foodie pics we took! So good!
Also, the main highway into the area is undergoing some major renovations in 2018! Part of the concerns reportedly being addressed are some of the narrow and harrowing cliff overhangs! There will be travel delays during the 2018 season. Check out the BC Government's site for full details on the construction.