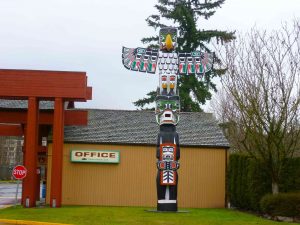 Our next destination was Vancouver. After a ferry ride back to the mainland, we threaded our way through to our home for the next six days – Capilano River RV Park. Located in west Vancouver, it is the only RV park located within the city of Vancouver. Be sure to preplan your route – it will seem weird, but if you cut through the Park Royale shopping centre, it is the best (and easiest) access route. Furthermore, if you happen to follow Google Maps, you run the risk of missing the turn and crossing the Lionsgate Bridge and ending up in downtown Vancouver!
It is a beautiful park – sites are close but still provide room to be outside without staring down the tailpipe of your neighbour. The pool is clean and spacious and the laundry facilities are clean and well kept. Staff is helpful and the compound is both gated and patrolled so your safety is always paramount. They have free wifi – which works quite well throughout the park. A vehicle wash station, onsite propane, doggie park and a playground round out the amenities of this great park.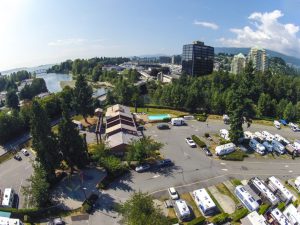 The park gives you easy access to some of Vancouver's best attractions – Stanley Park, The Vancouver Aquarium, The Seawall, The Capilano Suspension Bridge and of course, the amazing Lions Gate Bridge. It is also very well located and there is shopping a short walk away! Off a couple of good local transit routes, it is easy to get around Rates are higher than you'd expect in a commercial campground, but this is Vancouver and coupled with it's amazing location, it is certainly worth the price!