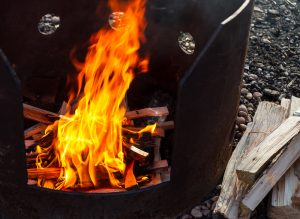 Whether it is your first trip or your five hundredth, the first trip of the season can be stressful. You want to remember everything! You want to ensure your family has a wonderful time, that everything goes smoothly and that nothing goes wrong or gets forgotten. That's not always easy and it is an awfully big role getting everything packed up.
With May Long weekend rushing up, now is a good time to take a quick inventory of your RV and try to make sure you've got all you need packed up before you hit the road!

Speaking from experience, I have forgotten:
Pancake syrup
jackets
blankets
I have made lists. Lots of them. For each room of the RV. I also don't like surprises so I combined them all. It is an inventory that allows me to physically put my finger on each item so I can confirm it is present. (side note: when our son was young and I was back at work, my husband packed the RV for our first trip. The drive out was an interrogation of my husband: question after question after question to ensure the usual things were packed. It was after that trip that I made a 'master' list so that he could tick off all the items and give me (and him) peace of mind)
This list is based off everything I have in our RV, starting with our kitchen and bathroom. I like to group related spaces for ease of planning and packing. Although what you pack is personal, some items tend to be universal so the list is very detailed but there are spaces for your own personalization. Now I can rest easy knowing I've loaded up the essentials at the start of every season. Experienced RVer tip: keep either a notepad/pen handy or create a list on your phone for the things you do forget.
I also plan a menu for our trips and go through each meal to ensure I have the necessary things to prepare it. This usually ensures I've captured everything required (although it didn't help with the pancake syrup). We are fortunate enough to have a small fridge in our house that collects all the perishables purchased before a trip and the perishables that are purchased just for the RV (condiments, primarily). I will be sharing our meal planner in a few weeks and tell you more about how I prepare for that.
At the end of the day, RVing is supposed to fun and relaxing and this printable and the ones to come are all meant to ease the planning and packing. The printable is in a PDF format (free PDF readers are widely available for free – Adobe) but if you would like an editable format, click on the "Contact Us" page and send us a note and we can send you a link to an editable document.
This document is for personal use only. Any sharing of the document should be linked back to our website with credit given.
RV Inventory Checklist_kitchenbath