Want a perfect vacation? Use this recipe: Time + Effort + Flexibility.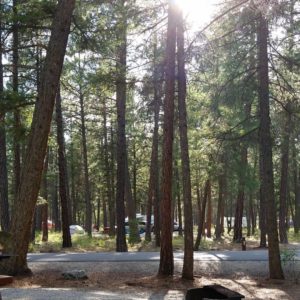 Once upon a time, one used to just be able to say 'hey, I feel like heading out camping this weekend!' and you did. Put a few clothes in a bag, grabbed a pillow and a some groceries and out the door you went. Part of the allure of camping was the freedom to just go at a moments notice, your home on your back (or behind your vehicle) and only the open road ahead.
Fast forward 30 years, and things are not the way they used to be! With an ever growing population and an even larger love of the outdoors, planning a weekend away all too often has to be planned months in advance. Many popular campsites (especially those adjacent to larger urban centres), fill up quickly and you can very well find yourself without a place to camp if you show up late on a Friday night!
What is one to do? How do you find spontaneity while RVing? Can you plan for a trip in July in January?
Time. Take the time to research where you are going to go, where you are going to stay. How much time are you going to spend in any one place? Are you arriving mid-week or on a weekend? If you take the time to figure out the basics of your vacation, it eases the pressure.
It takes effort. Sometimes, seemingly more effort than it is worth. With the advent of Google and online reviews, finding a decent place can be daunting. I have learned, through the extensive planning of our last three summer vacations, that online reviews are very much subjective. What one person finds horrible, another may find only a minor annoyance and sometimes, there is no issue at all.
Read reviews but also ask friends and family for recommendations. Social media can be a great equalizer so use it to your advantage. Call the campgrounds – often, a first impression of the voice who answers the phone will tell you more than any review you read. Is the person friendly? Can they answer your questions? Do you feel rushed or dismissed? A five-minute phone call is a little effort but could be very rewarding.
Finally, be flexible. With dates, with expectations, with your idea of 'perfect'. With luck, your unit will fit the site! With luck, it isn't beside the garbage! The campground allows you a legal place to park and rest your head. You want clean, you want friendly, you want to enjoy yourself. Sometimes perfect is what you make it.
Many times, campgrounds are happy to accommodate you if you are flexible. Can you shift your stay a couple days? Arrive on the afternoon of a holiday Monday instead of the Friday of the long weekend?
But how can you be spontaneous? My top three tips:
Be patient. Instead of having to be out camping May Long Weekend, go the weekend after. Guaranteed it will be quiet! Guaranteed you'll find the choice camp spot!
Go early! Then book the Friday off work and leave first thing Friday so you can get one of the coveted "first come, first served" spots. Research where you going though, as many provincial (and I assume, state) campgrounds are leaving fewer and fewer FCFS spots in their campgrounds.
Go mid-week! Many of Alberta's campgrounds offer discounted camp spots if you go for a mid-week stay instead of on a weekend!
Bonus Tip: If you are able to take all your vacations in the shoulder season, finding a campsite tends to be easier. Find your perfect and work within it.